Do all homework in the homework notebook!
Label the top of each homework page:
Example:
Monday-Spelling 3x's each and dictation

Put all homework for each night on the front and back of each page in the notebook. Do not skip pages!
Monday:

1. do spelling page assigned- tis is on the pruplae newsletter are on purple newsletter.
2. Write the spelling dictation sentences 3x each at the bottom of the dictation page or go on to the next notebook page-no skipping pages-these are on purple newsletter
3. Read the Selection ½ of the Story Monday
4. Do math page if given.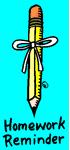 Tuesday:
1. Write a sentence with the each High Frequency Words for the purple newsletter given on Friday. This is on the back of the newsletter.
2. Read the other ½ of the story.
3. Do math page if given.
Wednesday:
1. Do spelling in ABC order
2. Read the whole story again
Thursday:

1. Study for all tests and study definitions for vocabulary test.
2. Math page if given
3. Do spelling page assigned.
Friday: The next week's newsletter is given.PLease refer to the custom page on the drop down menu to the left.